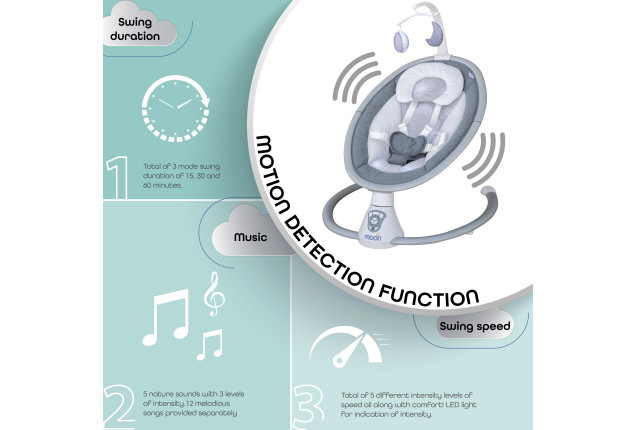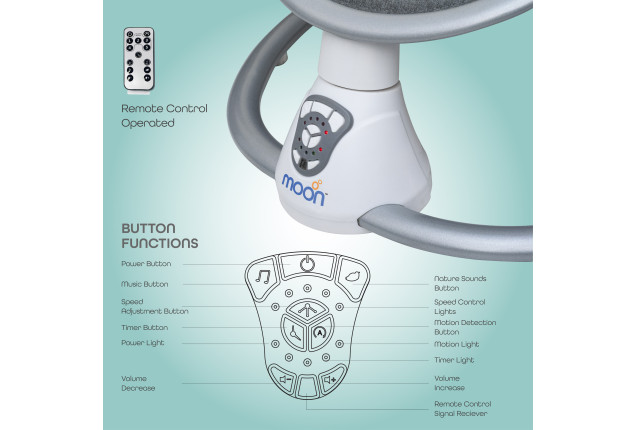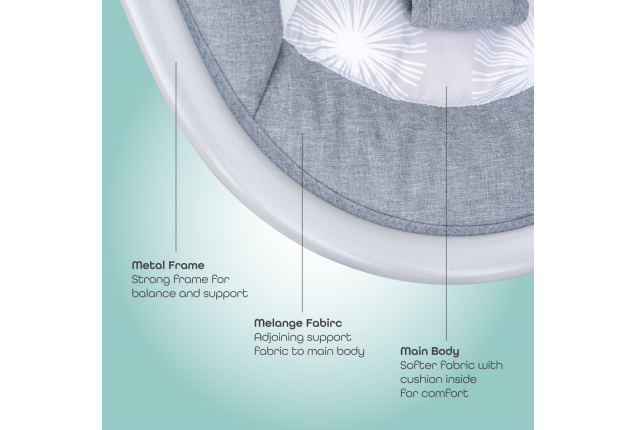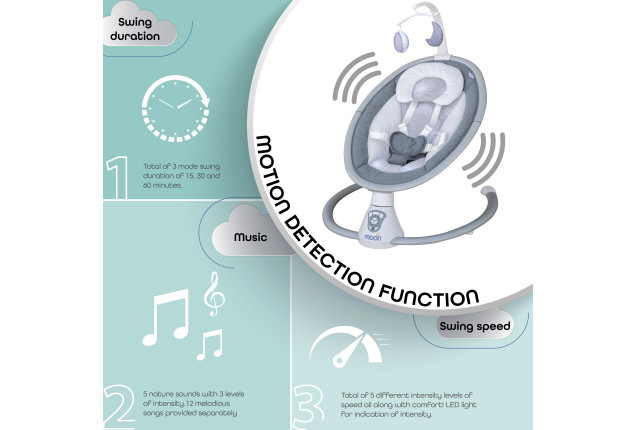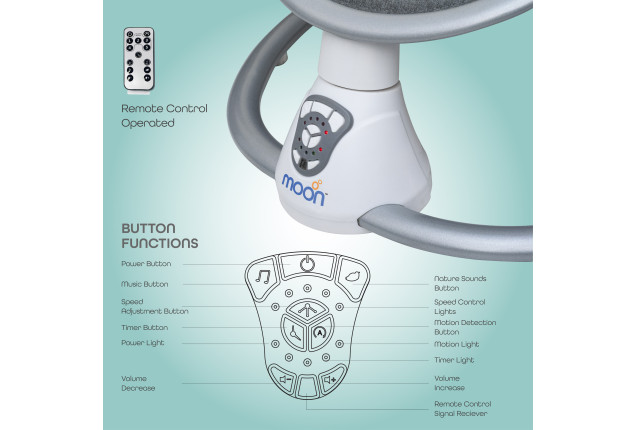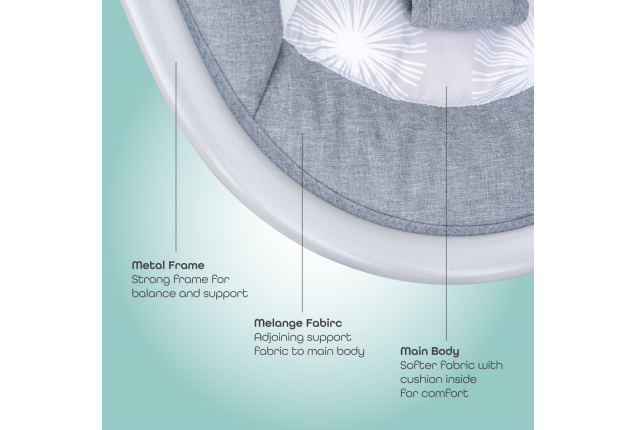 This Product comes with Price Match Guarantee
We understand that price is important to you. That's why we offer a price match guarantee. If you find a lower price for the same product/service elsewhere, we'll match it. So you can enjoy the best value without sacrificing quality. Try us out and see for yourself how we're committed to providing you with the best possible service and value.
Click here to join now and start selling today!
$80.75

Price: $80.75
This product has a minimum quantity of 1
Delivery: 2-4 Weeks Shipping From United Arab Emirates
Brand: Moon
Product Dimensions(cm): 30.00000000 X 20.00000000 X 44.00000000
Model
ISBN number: NA
Availability: In Stock
BUY MOON Swing grey WHOLESALE ONLINE
For a child to fall asleep, it needs to feel secure and comfortable, which is why babies fall asleep quickly in their parent's arms. With Moon's Baby Swing, you can recreate that same soothing atmosphere for your child to sleep and play in. The swing is equipped with music, swaying movement, a remote control, and a 5-point safety harness so you can settle your little bundle of joy in it, and enjoy a very well-earned break. The swing is the ultimate solution for you and your baby both to relax. EASY CONTROL- Along with buttons on the base, the swing also comes with a remote control, allowing you to change settings from afar.
GENTLE SWAYING MOTION- Babies feel most secure and sleep best in a parent's arms. By mimicking a parent's gentle swaying motion, Moon Baby Swing provides your child with a safe sleeping environment.
NATURE SOUNDS AND MELODIES- With a range of 12 melodies, and 5 natural sounds, the swing creates a calming ambience to lull your children to sleep, soothe them when crying, or just simply entertain them.
FLEXIBLE SPEED SETTINGS- The swing has 5 different speed modes and 3 varied timers so you can adjust it to suit your child and whatever atmosphere you require at the moment.
MOTION SENSOR- It also has a built-in motion sensor that will automatically resume the gentle swaying motion if your baby stirs in sleep.
COMPLETELY SECURE- An adjustable 5-point harness has been added to the swing to keep your baby safe and secure. It can hold up to 9 kgs.

IMPORTANT INFORMATION FOR YOUR WHOLESALE MOON Swing grey ONLINE ORDER
Order MOON Swing grey in bulk online and have it shipped to Nigeria, Ghana, Kenya, South Africa or anywhere else in Africa. Wigmore Wholesale is a Commercial and Supermarket supplier of MOON Swing grey in Africa.
All our brands are 100% authentic, we are online distributors for Moon which ships from United Arab Emirates. Shipping and clearing costs will be quoted separately and we will ensure you get the best landed costs for MOON Swing grey in your destination.
We supply products like MOON Swing grey to restaurants, businesses, offices, manufacturers and commercial enterprises in Nigeria, Ghana, Kenya, South Africa or anywhere else in Africa. We can provide quotes for shipping and transport to your exact address or destination or you can arrange shipping by yourself.