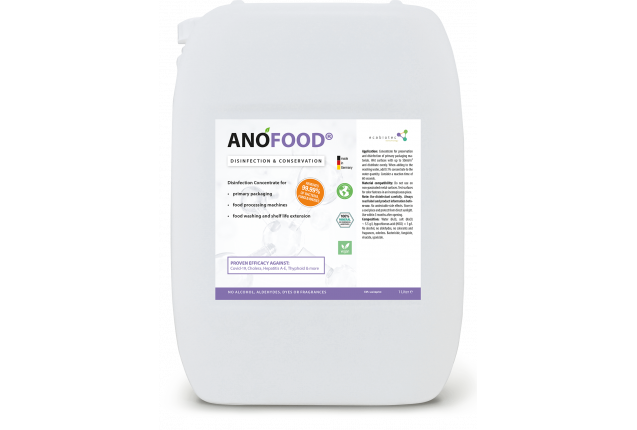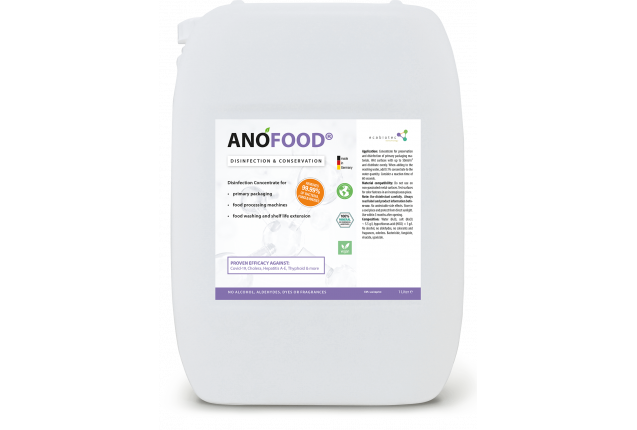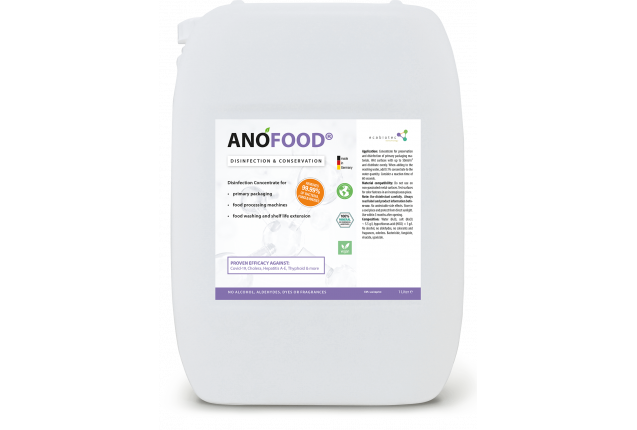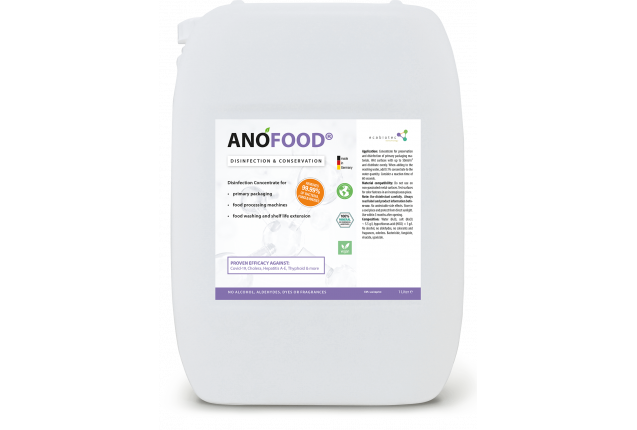 $249.00

Price: $249.00
This product has a minimum quantity of 1
BUY ANOFOOD® WHOLESALE ONLINE
ANOFOOD® offers many opportunities in microbial reduction in food processing, and without affecting organic certification guidelines, and can also be sprayed to prevent mould growth and germ elimination of stored or shelved food products to increase the shelf life of produce.
Cooling and storage water, as well as ice, can be treated with ANOFOOD® to maintain disinfection during storage or display with additional odor control.
The use of our ANOSAN® products also opens up new possibilities in the field of germ reduction in food processing. Tests in practice have shown significantly that the use of ANOFOOD® results in relevant quality improvements. ANOFOOD® helps to safeguard production processes, increases product safety and thus supports you in the optimisation of process steps. Also in your responsibility towards your customers.
Application & Dosage
For washing and showering to reduce germs on foodstuffs without rinsing. ANOFOOD® is 100% food safe & biodegradable.
IMPORTANT INFORMATION FOR YOUR WHOLESALE ANOFOOD® ONLINE ORDER
Order ANOFOOD® in bulk online and have it shipped to Nigeria, Ghana, Kenya, South Africa or anywhere else in Africa. Wigmore Wholesale is a Commercial and Supermarket supplier of ANOFOOD® in Africa. All our brands are 100% authentic, we are online distributors for Ecabiotec which ships from Germany. Shipping and clearing costs will be quoted separately and we will ensure you get the best landed costs for ANOFOOD® in your destination.
We supply products like ANOFOOD® to restaurants, businesses, offices, manufacturers and commercial enterprises in Nigeria, Ghana, Kenya, South Africa or anywhere else in Africa. We can provide quotes for shipping and transport to your exact address or destination or you can arrange shipping by yourself.